Funded by the Government of Ontario and Canadian Mental Health Association (CMHA).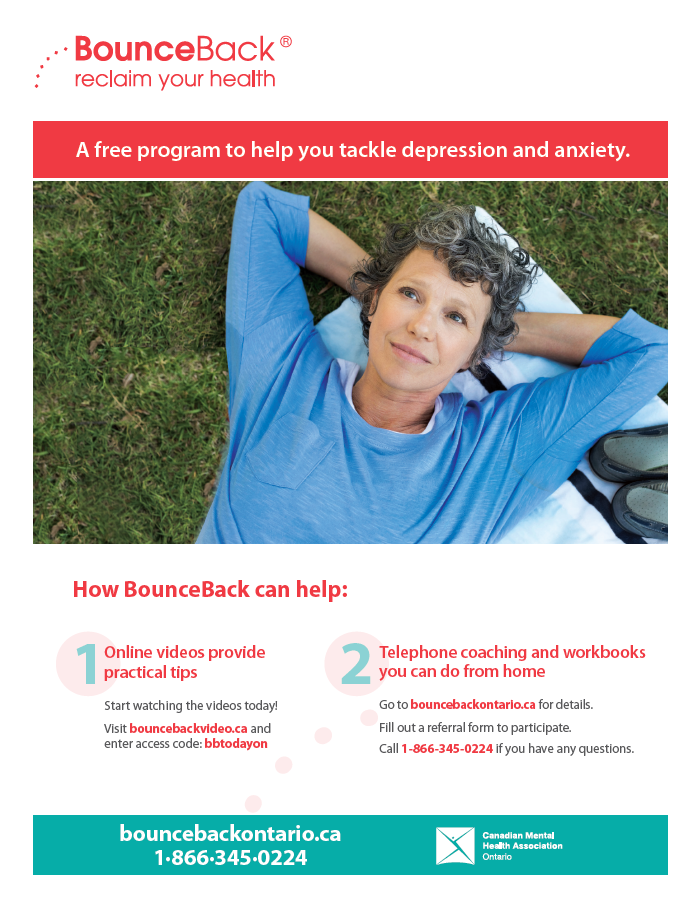 BounceBack®: Reclaim your health is a free skill-building program designed to help adults and youth 15+ manage symptoms of depression and anxiety. It offers two forms of help.
1) BounceBack® Today online videos.
No referral is necessary. You can start watching the online video series today! The videos are available in English, French, Mandarin, Cantonese, Punjabi, Arabic, and Farsi.
Visit: bouncebackvideo.ca and enter access code: bbtodayon
2) Telephone coaching and workbooks
A referral is required to participate in telephone coaching and workbooks. Your primary care provider (family doctor or nurse practitioner) can provide you with a referral. This is important so that the healthcare professionals who know you best can match your needs with the right support. Print off a copy of the referral form to take with you at your next primary care visit. Alternatively, you can self-refer by completing the online referral form. Be sure to include the contact information for your primary care provider so that BounceBack® can contact them on your behalf.
Visit the bouncebackontario webpage.
For questions or concerns about the BounceBack® program, or if  you need help filling out the form call:
Toll-Free: 1-866-345-0224