Ontario Implements Provincewide Emergency Brake.
The Ontario government is imposing a provincewide "shutdown" starting April 3, 2021 and will be in place for at least four weeks.
Like in the previous lockdown, financial services like banks, health care and social services, media industries, construction etc are allowed.
Free online Lunch and Learn: Mental Health Skills During COVID19.
April 29, 11:30am to 12:30pm.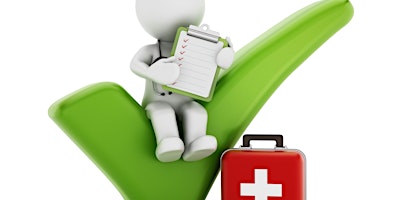 Learn more about mental health and the impact of stress on one's body and mind, basic ways to support both yourself and others, and how these concepts are the same or different during a pandemic. This is a great introduction for those new to the topic or a nice review with potentially some new resources for those already knowledgeable on the topic. It also acts as a great introduction and/or refresher before taking one of the Mental Health First Aid Sessions livingwellseontario.ca/event/145577892395/
For other workshops, visit the workshop tab of Living Well – South East Ontario at www.livingwellseontario.ca/workshops
Seven virtual training sessions focused on the significant intersection between brain injury and addiction.

The series launched Wednesday 24 March 2021 with an introductory session that will provide participants with critical foundational knowledge about brain injury. All sessions will be 90 minutes in length. Sessions will begin 12:30 pm EST.
TBD: Addictions and Brain Injury Toolkit 
FREE 5 week course about Traumatic Brain Injury (TBI).
The Understanding Traumatic Brain Injury (TBI) MOOC (Massive Open Online Course) was developed by the Wicking Dementia Research and Education Centre based in the College of Health and Medicine at the University of Tasmania, with support from Connectivity. This online course is free, easily accessible and available to everyone with an interest in TBI, neuroscience or brain health. https://mooc.utas.edu.au/course/4191 REGISTER NOW!
The release of course course will occur at 9:00am (AEST) on the following dates –
Introduction – 7th June, 2021
Module 1: Brain science and TBI pathology – 9th June, 2021
Module 2: TBI from mild to severe – 16th June, 2021
Module 3: TBI across the lifespan – 29th June, 2021
Module 4: Life after TBI – 7th July, 2021
Completion – 14th July, 2021
You can work through the content at any time of day and at your own pace. This includes revisiting earlier released content as needed up until the course close on the 30th July 2021 at 11:55pm AEST.
The Brain Body and You – April-May 2021 (Online format!) Participate and Learn from home!

This series is designed for front-line health care providers (eg. PSW, RPN, RN, Rehab Assistants and Restorative Care Aides) caring for stroke survivors and other related patient populations. Learn, perform, practice, and enhance your care and support techniques to promote safety, comfort, and dignity for stroke survivors and other client populations. This series of modules is offered in partnership with St. Lawrence College. www.strokenetworkseo.ca/best-practice-and-education/education-opportunities
Stroke care: Prevention to Life after Stroke
April 7 & 14, 2021- 6:00-8:00 pm
Speech, Swallowing and Communication
April 21 & 28, 2021- 6:00- 8:00 pm
Cognition, Perception and Behaviour
May 5 & 12, 2021- 6:00-8:00 pm
Mobility, Positioning and Transfers
May 19 & 26, 2021- 6:00-8:00 pm
Registration is limited! Complete this form, and submit to [email protected] to reserve your spot for the sessions you wish to attend. A certificate of attendance will be offered for each of the 4 topics.
Download the poster here(link is external)!
Canadian Concussion Centre Webinar Series beginning March 2nd, 2021.
FREE 25 online sessions for people with persisting concussion symptoms, their families, friends, caregivers and health care professionals. Sign up at: https://bit.ly/2OmWZNw
Live on Zoom and accessible on YouTube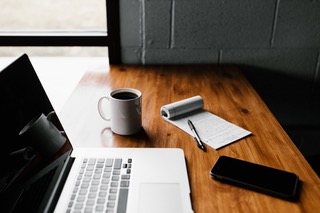 Bi Weekly Tuesday 6pm-7pm EST  (30 min presentation, 30 min Q & A Moderated). Featuring experts on concussion treatment topics. Including exercises therapy, vestibular therapy, mental health, return to work, school and athletics, and more.

Ontario Brain Injury Association (OBIA) + Brain Changes Initiative (BCI) are jointly hosting a Lunch and Learn Distinguished Speaker Series April 22 – June 3 2021. Tune in to learn about revolutionary new science for healing the brain holistically. Registration for each webinar is free, although donations are greatly appreciated. Continuing Medical Education (CME) credits will be issued for each topic attended.

The Compassionate Justice Fund – Applications are now being accepted
The Compassionate Justice Fund for survivors of traumatic brain injury (TBI) among vulnerable populations is now accepting applications for the funding cycle June – December 2021. compassionatejusticefund.org
Who is eligible?
Resident of Ontario
Age 16 or older
Have sustained a traumatic brain injury (including concussion) through means of violence, abuse, who are experiencing unstable housing, and/or have intersected with the mental health or criminal justice system, and do NOT have access to other funding for services.
Does not need to be a recent injury and you do not need a formal diagnosis of TBI from a doctor to be eligible for the fund.
Who is not eligible?
Funding will NOT be provided for persons with reasonable financial stability or access to rehabilitation and/or support services.
To apply for the fund or to find out more information, visit the Compassionate Justice Fund website or email [email protected].
2021 March issue of the OBIA Review is available ONLINE
Just like in September, the magazine will be offered in its entirety, electronically.
Please click on the on the links to the March 2021 issue, June 2020 issue and September 2020 issue of the OBIA Review.
The OBIA Review is OBIA's high quality digital newsletter filled with the thoughts and opinions of Ontario's leading health managers, academics and clinicians. The OBIA Review has four issues per year and caters to an extensive healthcare readership – including our own membership network as well as private and non-profit health services, consumers and vendors in all parts of the province. The OBIA Review is full of interesting and varied content. It keeps you up to date on the latest developments and advances in brain injury research, rehabilitation and legislation.
OBIA presents, Provincial Acquired Brain Injury Conference –
October 28-29, 2021!
The 2021 conference will be coming to you live, but virtually, October 28-29, 2021!
The Call for Abstracts is now open. We are accepting applications until March 31, 2021. Information and application form can be found here.
Sponsorships and Delegate Registration will be announced in the near future. Please stay tuned! Visit the ontarioabiconference.ca webpage.
Ontario households return to regular time-of-use rates or fixed tiered rate.
The emergency order providing Ontario residents with a less expensive, fixed off-peak hydro rate expired Tuesday 22 February 2021.
Read more at CTVNews.ca
Concussion Tool Kit and MyBrainPacer
There is help. To help patients get back to living full lives, St. Joseph's Health Care London's Acquired Brain Injury Outpatient and Outreach Program at Parkwood Institute has developed a free online toolkit for concussion survivors.
What's in the toolkit? MyBrainPacer App™. Much like points tracking used by dieters, through MyBrainPacer™ daily tasks such as driving, exercise and screen time are assigned point values. Users track daily points to balance their activity and minimize their concussion symptoms. MyBrainPacer™, based on St. Joseph's Pacing and Planning Program, was made possible through funding provided by The Cowan Foundation and other community supporters to St. Joseph's Health Care Foundation.
The toolkit also includes St. Joseph's Concussion Care Video Series, and other downloadable, easy to use tools and tips.
View and share these tools with concussion survivors and their care team. 
CAREGIVER SUPPORT SERIES: Brain Injuries Change Lives.
Traverse Independence is pleased to offer the CAREGIVER SUPPORT SERIES: Brain Injuries Change Lives. The Care to Share program is open to caregivers in our area with virtual meetings on Zoom.
This free 8 week goal-oriented program, under the supervision of a clinical psychologist, provides the knowledge and support needed to better assist someone with a brain injury and, most importantly, the knowledge you need to care for yourself.
View the poster or transverse independence website for further details.
On-line survey:Time use and well-being during the COVID-19 crisis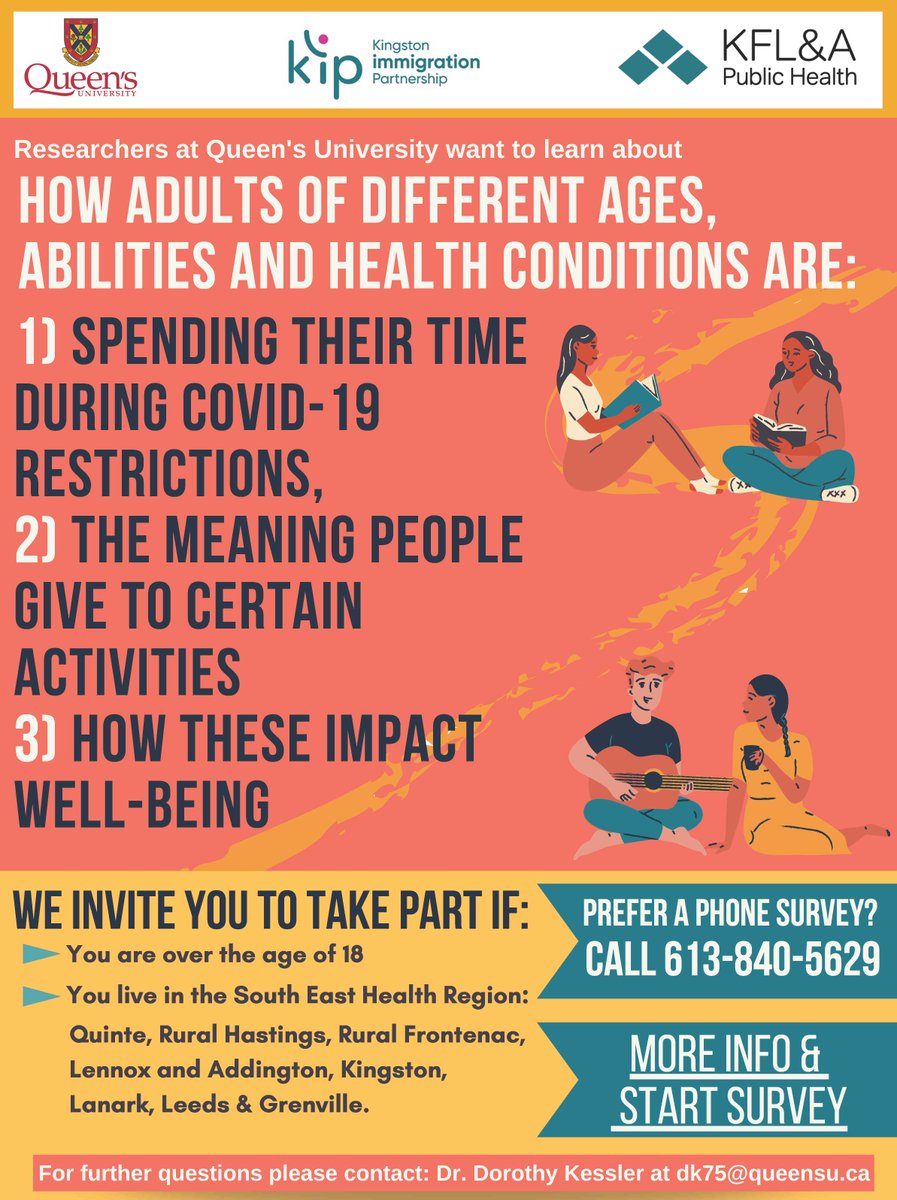 Queen's University have launched an on-line survey aimed at finding out how people are spending their time, and what they perceive to be the impact of Covid-19 restrictions on them. While anyone can participate in the survey they are particularly interested in exploring the impact of self-isolation on different groups in the community who are living with a disability or have specific needs such as people living with stroke. A flyer with the link to the survey. More information about the study and the consent form here.
OBIA Brain Injury Impact Study. Join the Research Study, Make a Difference.
Raise awareness about the needs of those living with a brain injury
Advocate for services
Highlight the long-term outcomes of brain injury
Provide information to better inform health care policymakers, local health teams, insurers, and researchers who are looking at ways in which people living with a brain injury can be better served.
Let Your Voice Be Heard!
Click below to participate:
INDIVIDUALS LIVING WITH A BRAIN INJURY / CONCUSSION (AGES 16 & UP)
Brain Injury Canada surveys to gather information on important topics from individuals living with brain injury, caregivers/families, health care and service providers, and brain injury associations
Impact of COVID-19 pandemic on the brain injury community. Visit the Brain Injury Canada page to complete the survey which most represents you. Your feedback is essential.
Social Isolation Focus Group
If you have experienced social isolation during your concussion/brain injury recovery, Brain Injury Speaks wants to hear from you!
A series of focus groups to address the topic of Social Isolation during the month of February. Click to see the poster. Please note that these focus groups are not tied to a research project or study – they are being facilitated by a neuropsychologist through Brain Injury Speaks. If you have any questions about this initiative, please email Gazal Kukreja ([email protected]) for more information. To learn more about Brain Injury Speaks, visit the website  (https://onf.org/impact/brain-injury-speaks-2-2/).
The Concussion Symposium is intended for physicians, researchers, concussion clinicians, research fellows, graduate students, and university and faculty members.
Pluto is a Humdinger
See Pluto the dog on YouTube for some self-care ideas.
Pluto the dog speaking out about this and that during this crazy time. Pluto Living is the creation of un-reknowned wildlife photographer, NJ Wight, but clearly not as popular.
COVID-19 Check-In
The Government of Canada is advising people to think about how they can change their habits and routines in the event that COVID-19 becomes common in our area. Below are some suggestions for what to stay healthy and be as prepared as possible.
Medication
Refill prescriptions in order to avoid having to go to a busy pharmacy if there is a community outbreak, or in case of illness. Contact healthcare provider to renew prescriptions, if needed.
Consider having over-the-counter medications for fever and other cold symptoms on-hand in case of illness or if unable to get out to a store.
Food
Stock up on essentials but avoid panic buying. Having some extra food on-hand reduces the need to leave home at the peak of an outbreak or illness.
Shop during off-peak or designated hours to avoid crowds.
Home delivery service or online shopping may be appropriate.
Some meal programs may be cancelled or have reduced hours (ie. Meals on Wheels, Loaves & Fishes) so look for other meal options.
There may also be changes to shopping hours or local food banks (ie. reduced hours, reduced food variety / supply).
Kingston food bank still providing hampers, by appointment
Read article " Kingston food bank still providing hampers, by appointment" by Julia McKay  in the Kingston Whig Standard.
Impact of Covid-19 on City Programs, last updated on BrainInjuryHelp.ca April 03 2020. Please follow link for updates.
Partners in Mission Food Bank: 140 Hickson Ave. | Open Regular Hours 8:30 a.m. -12 p.m.,   1 – 4 p.m. Please call 613-384-4534 for appointment. No walk-in service.
Martha's Table: 629 Princess St. | Providing take-away hot meals 11 a.m. -1 p.m. 7 Days a Week
Lionhearts

Skeleton Park: 30 Alma St. | Providing take-home meals every day 6 – 7 p.m.
Kingston Community Health Centre: 263 Weller Ave. | Providing take-home meals every day 6 – 7 p.m.
Amherstview Community Hall: 108 Amherst Dr, Amherstview | Providing take-home meals Tuesday, Thursday and Saturday 5 – 6 p.m.
Morningstar Mission

in Napanee  | delivery 

Lionhearts has partnered with Morningstar Mission in Napanee to deliver meals to-go packages 3 days per week on Mondays, Wednesdays, and Fridays. 

Please contact Morningstar Mission for distribution details:

www.morningstarmission.ca

Phone:

613-354-6355

Email:

[email protected]

Lunch by George: 129 Wellington St. | Providing hot take-out meals or bagged lunches 11 – 11:30 a.m.
Mutual Aid Katarokwi: Offering check-ins, grocery/pharmacy/foodbank box delivery.
Leave message at 613-665-2959 or email [email protected]
North Frontenac Food Bank: 14152 Road 38, Sharbot Lake. Call 613-532-8855 for appointment.
Salvation Army: 342 Patrick St.| Mon – Fri 11 a.m. – 4 p.m. Take-away prepared food baskets provided.
St. Mary's Cathedral: 260 Brock St.  Mon -Fri 1 -4 p.m.  Providing take-away light food/snacks
St Vincent de Paul: 85 Stephen St. | Providing bag lunches 10:30 a.m. – 12 p.m. Mon-Fri | Food Pantry available by appointment
South Frontenac Community Services/Sydenham Food Bank: Frozen meals available for delivery daily. Hot meals delivered Tuesday and Thursday. Delivery only to South Frontenac/rural Kingston. 613-376-6477
Schedules
Review schedules for changes:

Medical Appointments (ie. cancel or phone consult?)
Community Activities (ie. volunteering, church, gym)
Transportation (ie. volunteer drivers, Para Transit)
Staying Healthy
Follow recommended prevention strategies:

Wash hands for 20 seconds using good technique. Wash frequently. Sanitize to maintain hand cleanliness.
Avoid touching eyes, nose and mouth.
Cover cough / sneezes with tissue or into the sleeve.
Practice social distancing (min. 6 fts) and avoid contact with people who are sick.
Stay home if sick.

Practice social distancing. It is recommended that people have reduced face-to-face interaction with others where possible and to maintain a distance of 6 ft. (2 m) apart.
Follow practices to maintain physical and mental health (ie. walking outdoors, relaxation techniques, maintain regular sleep habits, eat well, avoid alcohol / drugs).
Beware of Covid-19 Scams
Cyber criminals capitalize on crises like the current COVID-19 pandemic.

Fake notices from health organizations (e.g., the Federal or Provincial Government, WHO or local health departments) that contains malicious links or attachments.

Fake charities to help victims of the virus.

Misleading ads or spam about masks or other protective gear, or other tips to combat the virus.
Do not open any attachments or click on links that you are unsure about even if you know the sender. Look for red flags in emails you receive such as spelling and grammar mistakes, links, irregularities in the senders address, etc.
Mental Health
Ideas for activities to reduce social isolation and boredom:

regular phone calls / text messages with friends / family
online social groups
play games with family or housemates
bake or cook
listen to music
watch a movie
engage in hobbies such as crafts

Avoid watching too much news as this can contribute to feelings of depression / anxiety.
In case of illness:
call primary healthcare provider or Telehealth 1-866-797-0000 for further direction. Avoid going to a health care clinic without calling first.
call 911 if following symptoms:

difficulty breathing or shortness of breath
persistent pain or pressure in the chest
new confusion or inability to arouse
bluish lips or face
Resources
General information on how to prepare:
Tips for managing stress and anxiety related to COVID-19:
For those who are employed but unable to work due to layoff, illness or quarantine from COVID-19:
For local public health updates:
How to Self-Monitor:
How to Self-Isolate:
Mental health and addictions supports
If you're feeling anxious, experiencing other mental health or addiction challenges or you can't access your regular in-person counselling support, there are services you can access online or by phone:
Provincial and Federal Government Assistance. Provincial and Federal governments have made several announcements to help protect the health and safety of all individuals and families.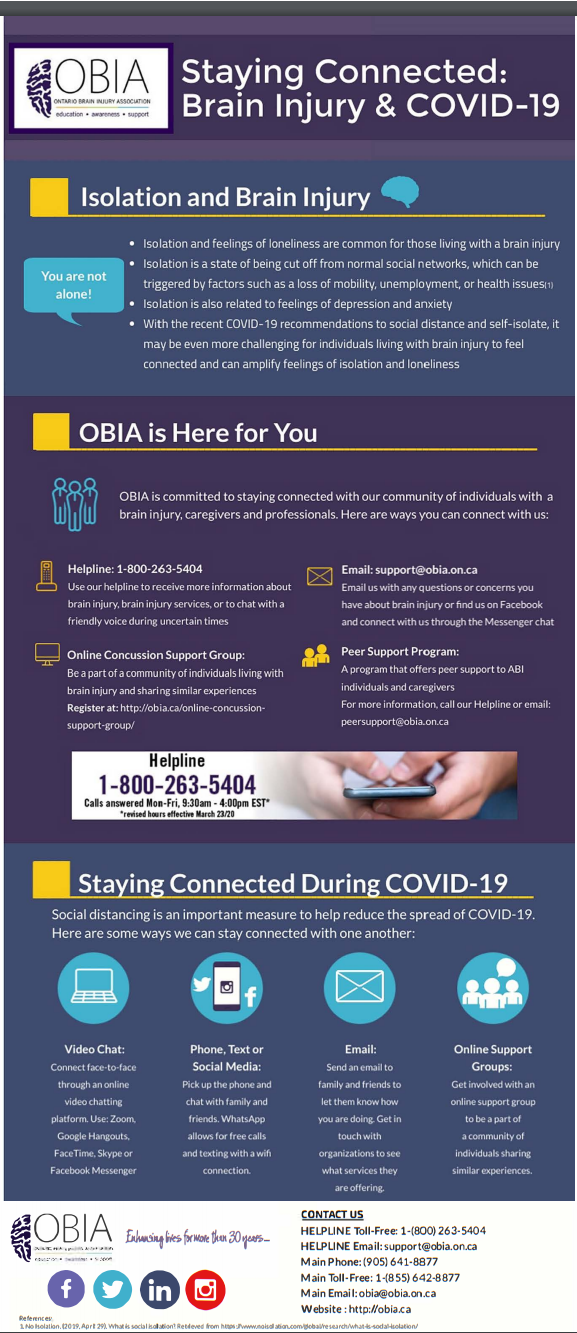 Click here for a printable flyer of Stay Connected with OBIA.
Do you prefer to take in information on-the-go? Kenneth Pope how has a Podcast!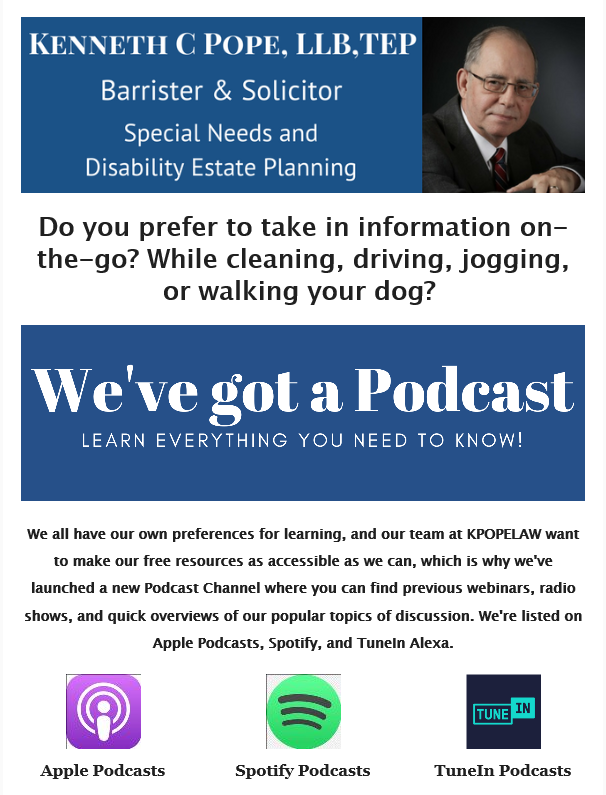 Check out the Podcast Channel where you can find previous webinars, radio shows, and quick overviews of our popular topics of discussion.
No smart phone? You can also listen via the web browser here
3 new Canada Recovery Benefits to assist people through these trying times.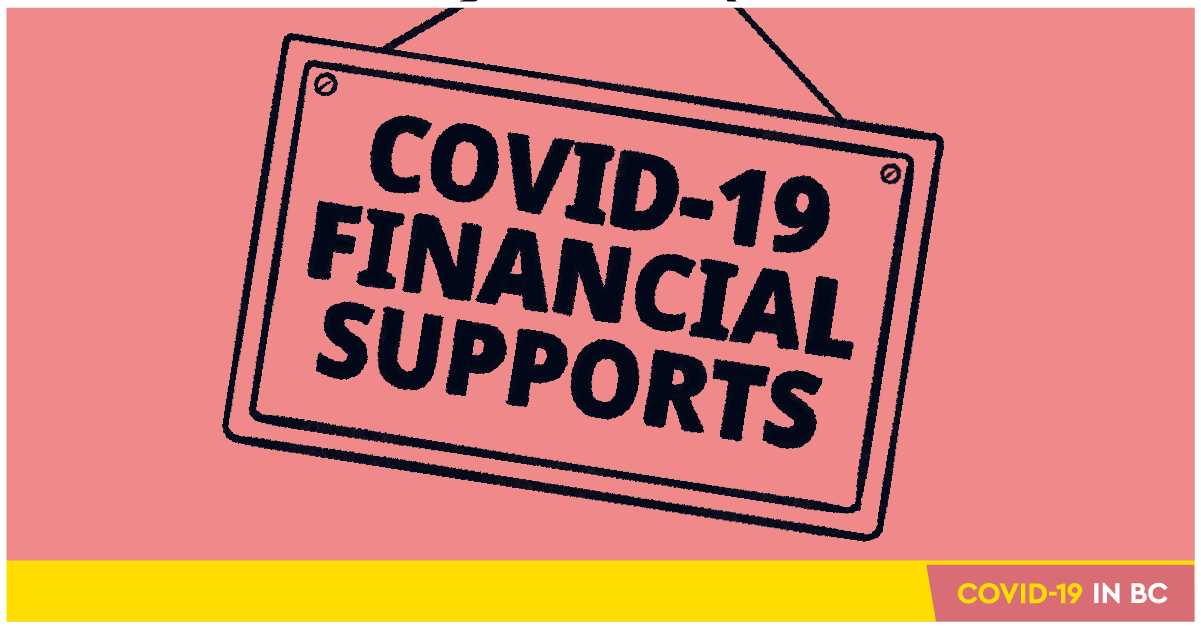 From Kenneth Pope Law:
All benefits received under the three Canada Recovery Benefit programs are considered taxable income. Click here for link to Canada COVID-19 benefits and services
You can apply for the Canada Recover Caregiver Benefit through your MyAccount or over the phone at 1-800-959-2019 or 1-800-959-2041, click here for more details.
We hope this information is helpful, and wish you all continued health and endurance during this difficult time.
COVID-19 TESTING CENTRES NEED TO KNOW
Kingston COVID-19 Assessment Centre Booking
Kingston Health Sciences Centre (KHSC) is using Eventbrite, a third party site, for individuals to book appointments at the COVID-19 Assessment Centre, located at Beechgrove Complex (51 Heakes Lane).
Please note the following:
·    One person can book up to four timeslots
·    New timeslots will be made available every 2 days
·    Individuals can also book an appointment by calling the Assessment Centre directly at 613-548-2376 (phones are answered from 9:30 a.m. – 3:30 p.m. daily)   Read more.
Hastings Prince Edward COVID-19 Testing
Quinte Health Care has set up an online pre-registration form and multiple hotlines for COVID-19 testing in Hastings Prince Edward.
The hotlines are available seven days a week from 9 a.m. – 5 pm.:
·    Bancroft: 613-332-2825 ext. 6222
·    Belleville & Trenton: 613-961-5544
·    Picton: 613-813-6864
For weekend testing please call the Belleville & Trenton hotline number.  Read more.
Lanark, Leeds & Grenville COVID-19 Testing
There are a number of COVID-19 Assessment Centres and pop-up locations throughout Leeds, Grenville and Lanark where individuals can get tested. Click here for a complete list of assessment centres in Lanark, Leeds & Grenville.
To schedule an appointment for one of the following areas please call:
·    Brockville: self-present for appointment on the day you wish to be tested
·    Smiths Falls: 613-283-2330 ext. 1401
·    Almonte: 613-325-1208
Anyone can catch the flu.

Influenza (flu) clinics – begin late October. Where to get the flu vaccine:
6 months to 4 years old
doctor or nurse practitioner
5-64 years old
doctor or nurse practitioner
participating pharmacy
65 and older
For the 2019/2020 season, if you're 65 and older, there are two different flu shots available – standard dose and high-dose.
Both shots are effective – do not delay getting vaccinated. Your doctor or nurse practitioner can answer any questions you might have.
To get the standard-dose vaccine, which protects against 4 strains of flu virus:
To get the high-dose vaccine, (also called "Fluzone® HighDose"), which protects against 3 strains of flu virus, but in higher doses:
Congrats to BIAQD, Recipient of the 2020 COMMUNITY BRAIN INJURY ASSOCIATION OF THE YEAR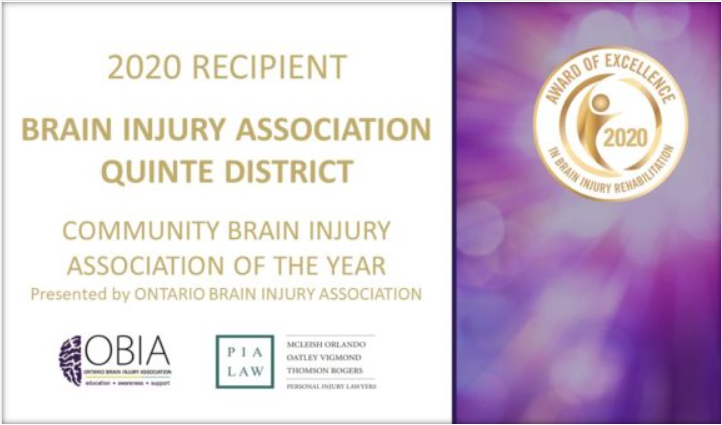 Visit aoe.pialaw.ca for more information and photos of the winners.
Watch the online presentation on YouTube:
From Ontario Brain Injury Association and PIA Law:
"Our congratulations to all the winners and nominees; this is a testament to your value and importance within the Brain Injury Community"
250 Sidney St. Belleville, ON K8P 3Z3
Entrance is located at the back of the building marked MAIN ENTRANCE
Look for buzzer number or call 613-967-2756 for entry.
Wednesday 30 September is Rowan's Law Day

Learn more about Rowan's Law Day and how you can participate and help spread the word about concussion safety.
Show your support for #RowansLawDay through a tweet, Facebook or Instagram post today by sharing your stories and learning the signs and symptoms of a concussion. Increase concussion education awareness, especially in schools.  Read more here

Navigator Update Fall 2020: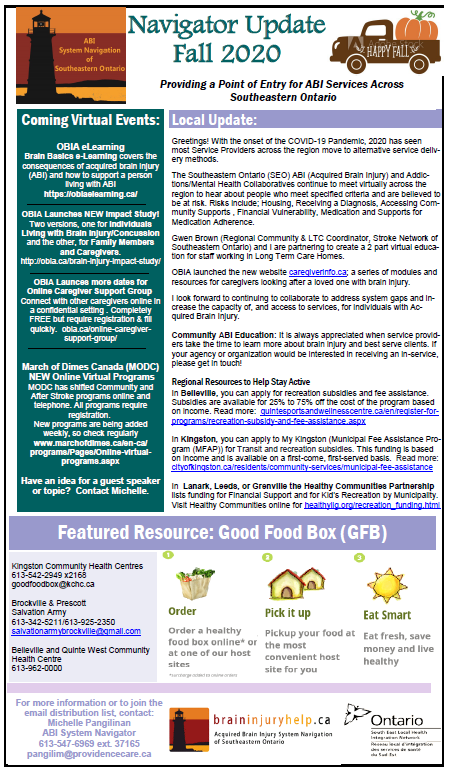 Providing a Point of Entry for ABI Services Across Southeastern Ontario
Please read about what is going on in Southeastern Ontario regarding Acquired Brain Injury.
Click here to read or print the pdf version of the 2020 Fall Newsletter.
Click here to read or print the pdf version of the 2019 Fall Newsletter.
Note from KFLA Public Health on exemption from wearing a face covering in Kingston Ontario.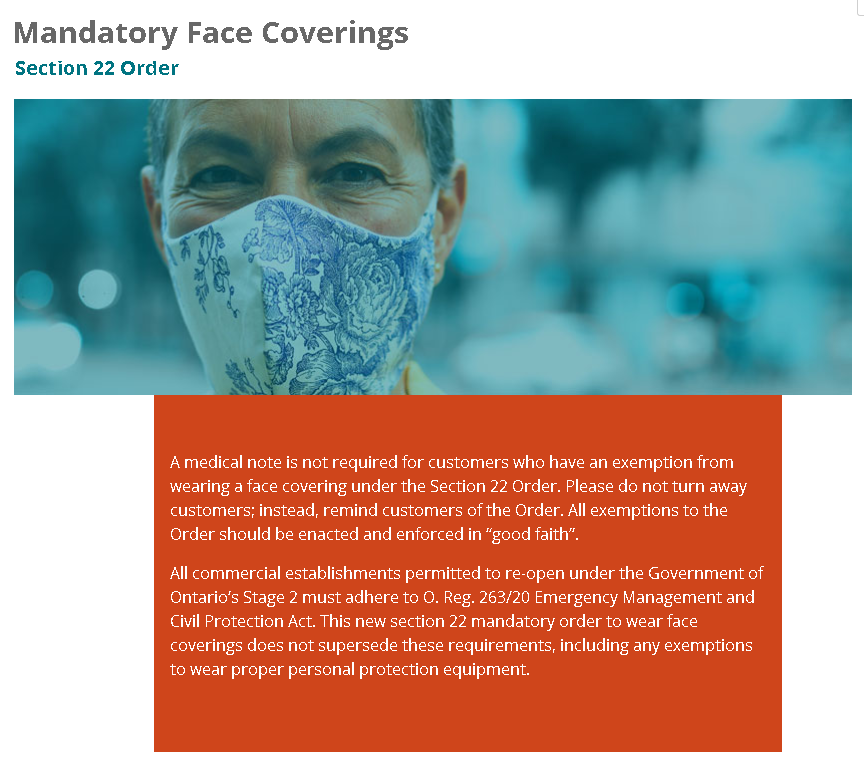 https://www.kflaph.ca/en/healthy-living/face-covering-frequently-asked-questions-faq.aspx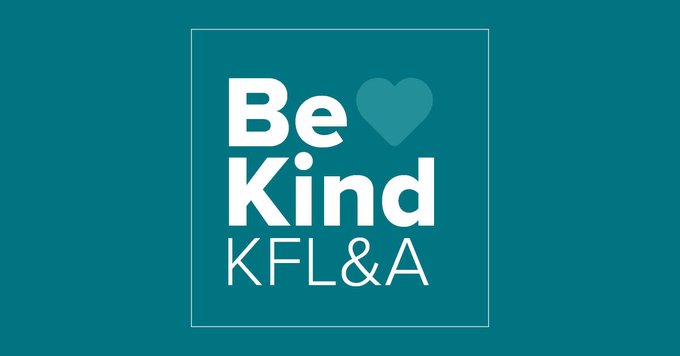 Connecting to one another virtually with March of Dimes Canada
MODC offers online events, activities and resources to connect caregivers with resources, tools, and a community of people who understand. The aim is to assist families and friends caring for a loved one after stroke or a chronic illness. Follow the link to read more on the Stroke-Recovery Website.
After Stroke is a program of March of Dimes Canada and a national service offering support, education and community programs for stroke survivors, their caregivers, and families. The goal is to connect  you with a network of support that can help you reclaim your independence, your sense of community and your ability to thrive after a stroke.
New dates for OBIA Caregiver Group

Online Caregiver Support Group – open to anyone.  Register online here
Positive Approach: A Four Part Life Skills Zoom Series
Brain Injury Association of Durham Region (BIAD) is has four on demand life skills session with Heather Campbell, BHSc, MScOT, OT Reg. (Ont.) Occupational Therapist from the Positive Approach.
Watch on demand of Session One:  www.youtube.com/watch?v=t0u3lqxkMcI                                                             Slides available here
Session one covered the following topics:
Hydration
Nutrition
Sleep and Wake Cycles
Movement
Social Connection with Others
Breathing
The Mind and Emotions
Watch on demand of Session Two: www.youtube.com/watch?v=IELvo1qBDek
Slides available here
Session two covered the following topics:
How to Successfully Organize your Week
Routines
S.M.A.R.T. Goals
Energy Conservation (Planning, Pacing, Prioritizing, Posture)
Balance of Activity and Rest
Watch on demand of Session Three: www.youtube.com/watch?v=o-R0yaTWfdY
Slides available here
Session three covered the following topics:
Practical Ways to be Kind to Yourself
Positive Self-Talk
Staying connected to the important people in your life (in person, phone, email, video chat)
Managing Expectations, and breaking goals down into manageable chunks.
Relaxation and Deep Breathing
Mindfulness and Meditation
Exercise and Movement
Brief Review of Pillars of Health and Self-Care, and Energy Conservation, Daily Routines
Did you miss any other session? Subscribe to the BIAD YouTube channel to gain access to all past sessions and other BIAD content.  CLICK HERE
Program that Lowers Electricity Bills for Lower-Income Households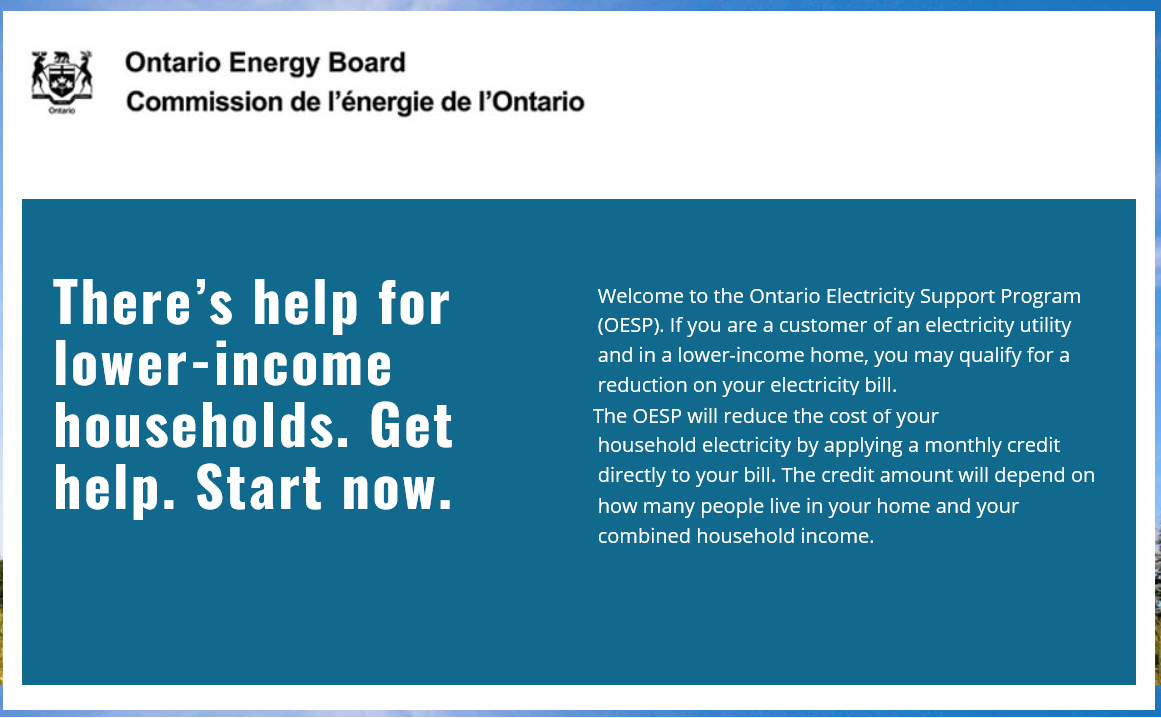 Did you know that if you pay for electricity and are in a lower-income home, you may qualify for a reduction on your electricity bill.
The OESP will reduce the cost of your household electricity by applying a monthly credit directly to your bill. The credit amount will depend on how many people live in your home and your combined household income.
Applications are simple and can be done online by clicking here: https://ontarioelectricitysupport.ca/. In order to apply, you must be the account holder for the electricity bill AND live at the service address for the account. The reduction is generally $45 per month for ODSP recipients.
Visit our page on the OESP for more information.
The Food Sharing Project and community partners continue to deliver healthy food to families in July and August.
The Food Sharing Project will continue to be delivering food boxes and grocery gift cards to local families.
37 Rigney Street, Unit 4
Kingston, ON
K7K 6Z3
Phone:   613-530-3514
Fax: 613-530-3710
Email: [email protected]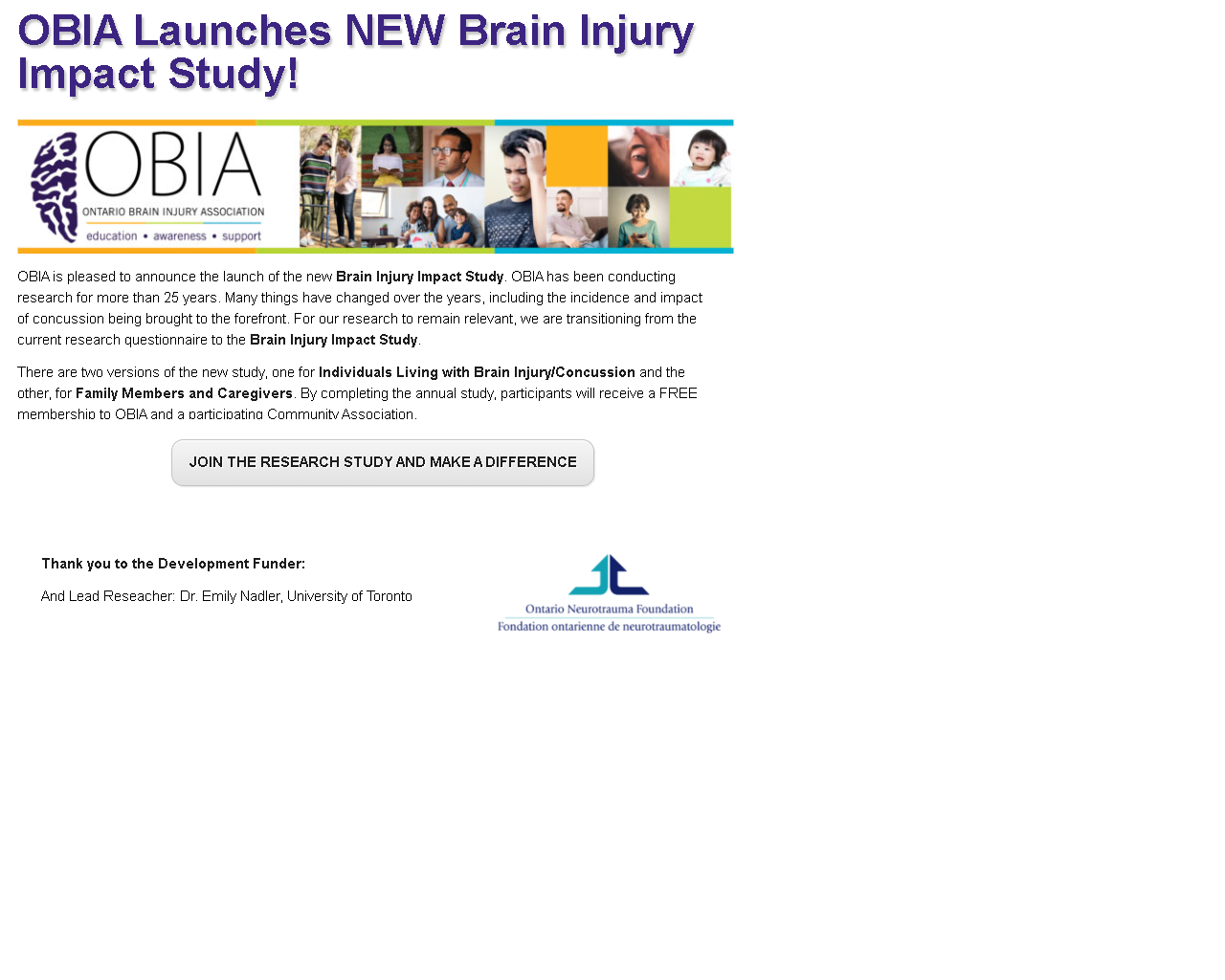 New OBIA Questionnaire about Brain Injury and Concussion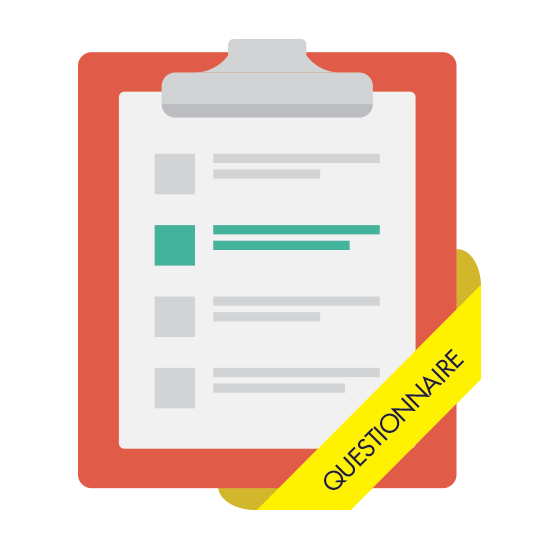 The new questionnaire contains more specific and concrete questions about changes to one's life following a brain injury.
It also strives to apply to the many individuals in Ontario who have sustained a concussion and includes a separate and more extensive questionnaire for family members and caregivers.
Research Questionnaire Application Form. Look for the updated questionnaire in your mailbox this spring! Information collected from this project will be instrumental in the goal of developing new programs and supports for those caring for loved one's with a brain injury. 
LivingWell South East offering FREE new workshops presented via Zoom Meeting.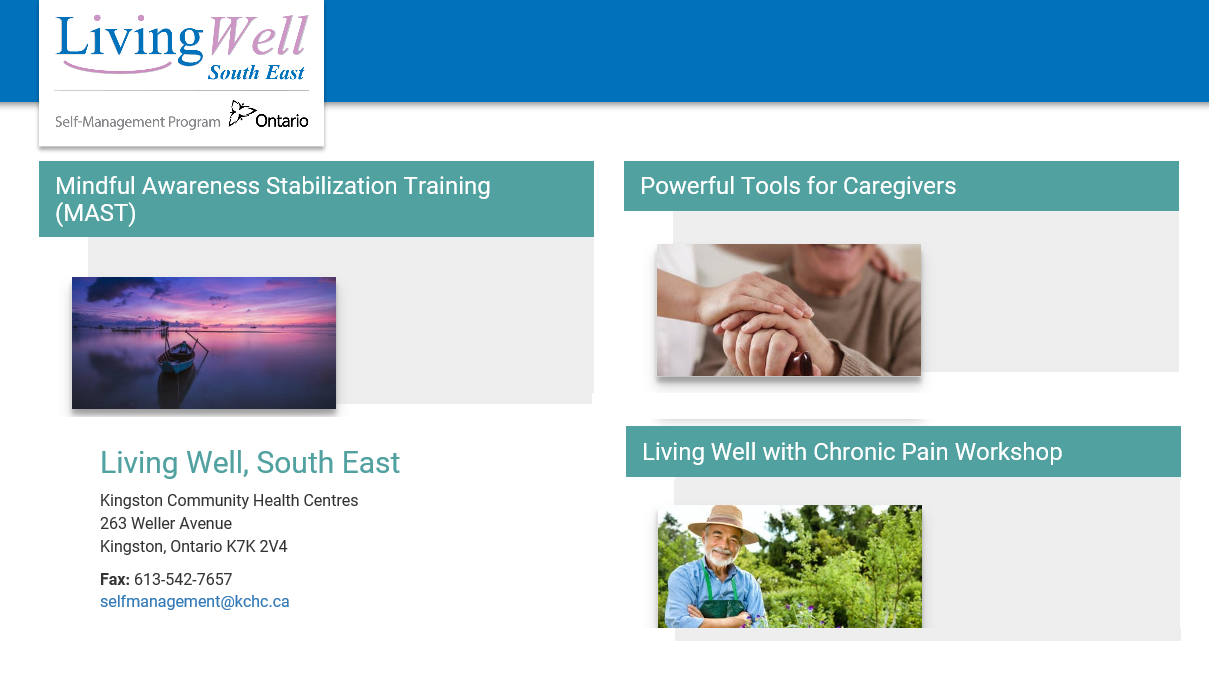 Keep an eye on the website www.livingwellseontario.ca for further updates as LivingWell SEO adds more workshops over June and July.  information and/or to register. The workshop page has a complete listing and search function for finding out when (and usually where) our workshops are taking place.
LivingWell is hoping to schedule a Living Well with Diabetes and a Powerful Tools for Caregivers next. Inquire about the at-home kits for diabetes, and for chronic pain. Read More
Quick list of benefits and measures that may affect or apply to you or your loved ones.
Please click on the various links provided for further details of funding Assistance During the COVID-19 Pandemic and Beyond
The Ontario Brain Injury Association is OPEN – VIRTUALLY and continues to attend to the needs of those living with the effects of acquired brain injuries and their families in this time of uncertainty. OBIA has lists of Provincial and Federal Funding Assistance, see the links below.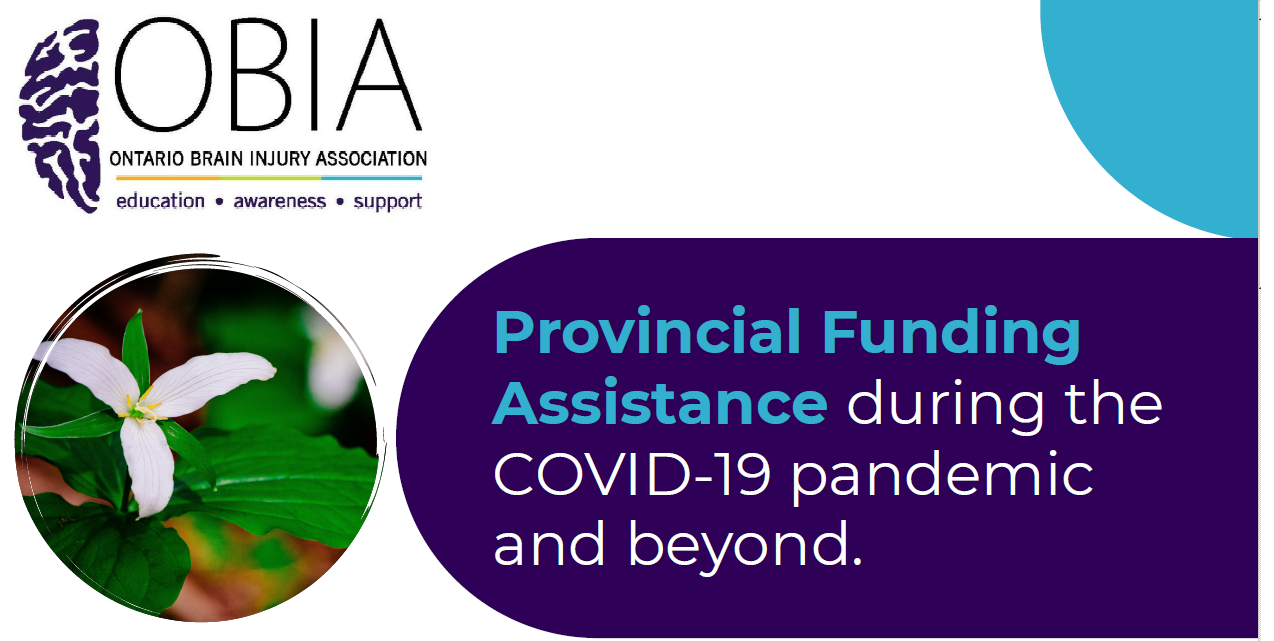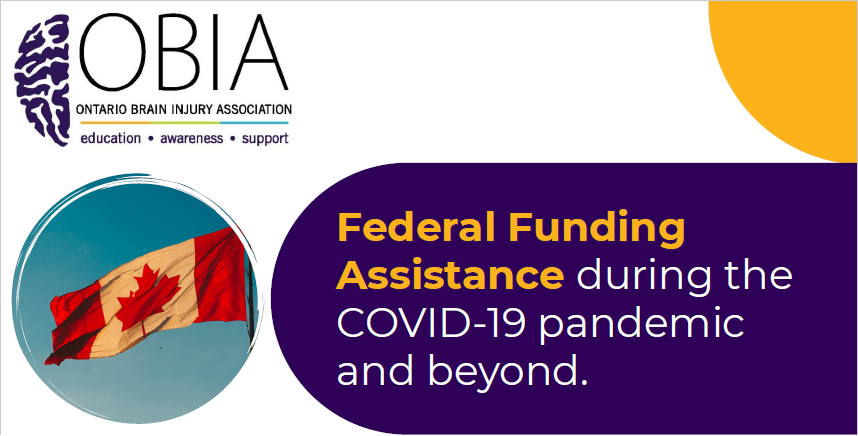 Click on the image to for link to resources on the OBIA website.
Note: The funding sources here may change as the COVID-19 situation evolves.

Click on the image to for a link to resources on the Kenneth Pope Law Website
For a list of available benefits during COVID-19, see the Community Legal Center's Benefits tip sheet and click on the infographic.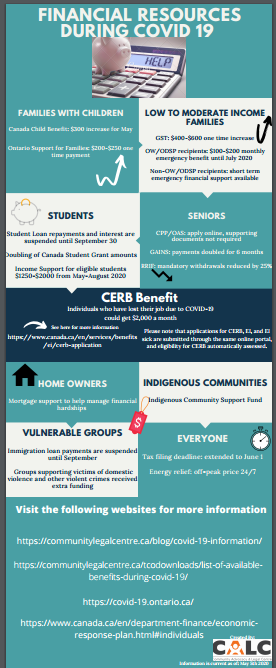 CERB: Canada Emergency Response Benefit
CCB

: May payment will be automatically increased by up to $300/child

GST credit

: One-time enhancement of $400-$600 on April payment

Impact on clients with CRA refund setoffs? Speak to CRA collection officer at 1-800-675-6184 (8am-4pm)
Taxes: Filing

due date for 2019 tax returns deferred to 1 June 2020

Seniors: GAINS 

payments for low-income seniors doubled to $166/month for singles and $332/month for couples for a period of six months beginning April 2020. 

Children:

One-time payments to families with children affected by school and daycare closures ($200/child up to 12, $250/child with special needs) 

Students:

OSAP loan and interest accrual relief for 6 months

Energy relief
Expanded funding for discretionary benefits to both OW and ODSP recipients

– request must be made through online application portal or caseworker

Ontario Works and ODSP recipients

can access

emergency benefits

by contacting their caseworker.

New applications for pregnancy-breastfeeding nutritional allowance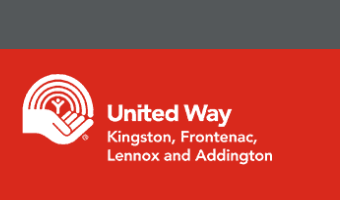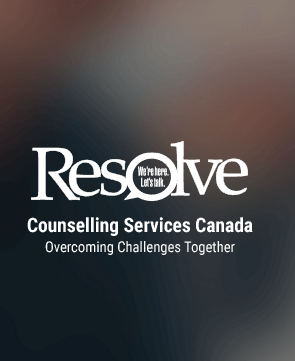 Visit the World Health Organization's website to learn:
Are you cleaning your hands properly? Take the Clean Hands Self-Assessments online.
Event hosted by: Canadian Patient Safety Institute
Feeling low? Stressed? Anxious? BounceBack® can help!
BounceBack®: Reclaim your health is a free skill-building program designed to help adults and youth 15+ manage symptoms of depression and anxiety. It offers two forms of help.
Click here to see our write up
or
the webpage directly at bouncebackontario.ca for more details
Utilities Kingston: here to support you.
Contact Utilities Kingston to discuss extended bill payment options and financial assistance programs.
Temporarily suspending disconnecting customers for non-payment.
Offering flexible payment terms and arrears payment agreements for water, sewer, gas and electricity bills, in order to provide customers with more time to pay outstanding balances on their account, if needed.
Before falling behind on utility bill payments, contact Utilities Kingston for assistance. Contact the credit department by email [email protected] or phone at 613-546-1181, ext. 2278, Monday to Friday from 8 AM to 4:30 PM.
Please note: To help contain the spread of COVID-19 in our community, access to the main office at 85 Lappan's Lane is now restricted. Below are some of the common reasons people visit in person, with instructions on what you can do instead.
Assistance programs
The Low Income Emergency Assistance Program. This program offers assistance to customers who would otherwise be facing disconnection of services.
The Ontario Electricity Support Program. This program provides ongoing assistance directly on the bills of eligible low-income electricity consumers.
Customers can contact Kingston Community Health Centre for application information for these programs and assistance at 613-542-2949, extension 2143.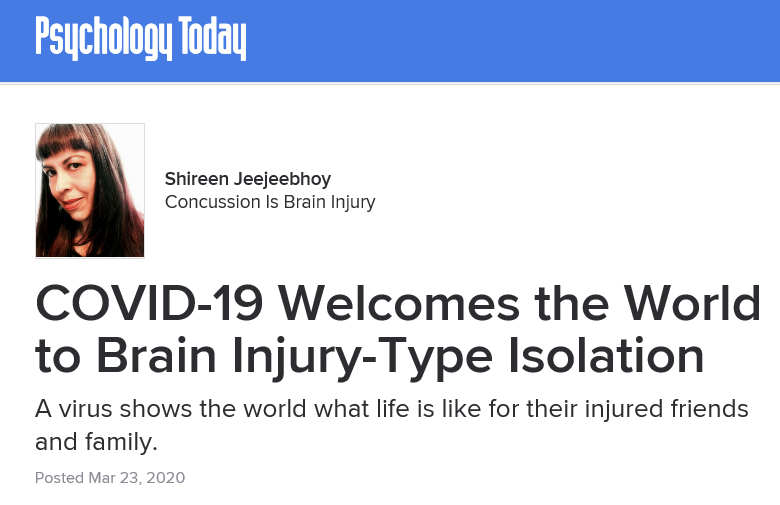 Follow the link to read the article in Psychology Today.
Free On-demand Webinar about Strategies for Achieving Success after Concussion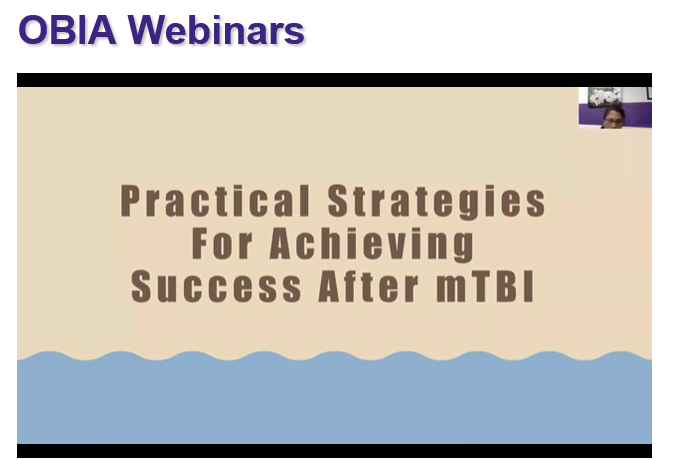 The presentation and slides are posted on Ontario Brain Injury Association (OBIA). Share the link with anyone who can benefit from this information.
Follow the link to watch it at OBIA.ca  WEBINAR on Practical Strategies for Achieving Success after mTBI.
Need help for yourself or tools to help someone close to you? Resources are available. Learn more
In person Caregiver Connect  on Hold

DATE TBA
To RSVP or if you have questions, contact
Michelle (SEO ABI System Navigator) through this webpage, directly at [email protected]
or by telephone 613-547-6969 ext. 37165
Be heard with Brain Injury Speaks!
Join the Brain Injury Speaks, Stakeholder Engagement Network of Ontario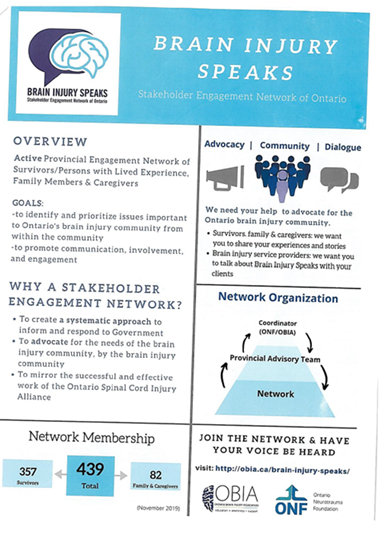 Often, decisions affecting the brain injury community in Ontario are made with little input from persons living with lived experience and their family members and caregivers.
Bereavement Services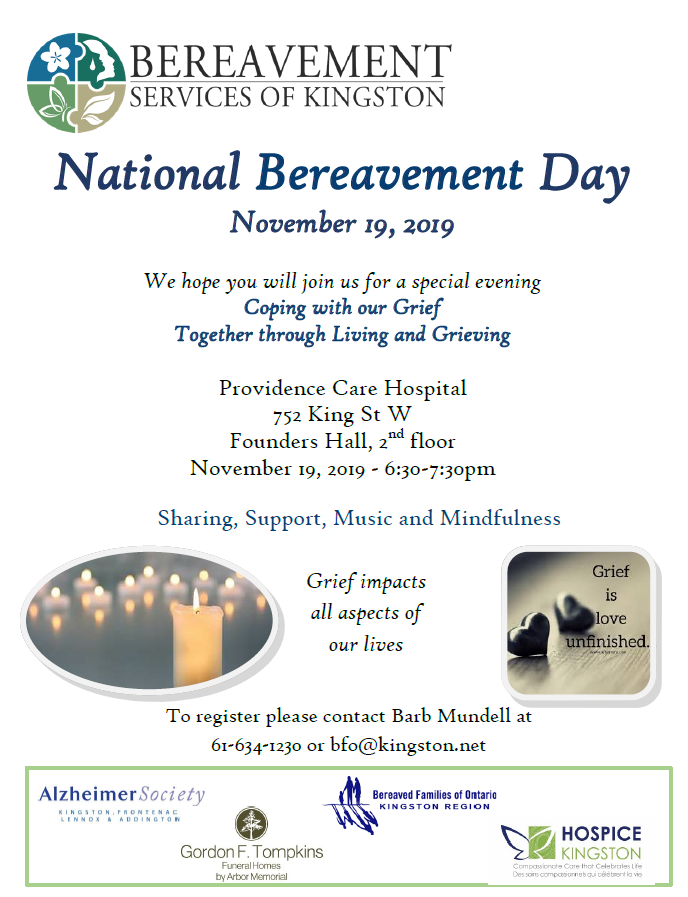 Bereavement Services of Kingston is a collaboration between the Alzheimer Society of Kingston, Frontenac, Lennox and Addington; Arbor Memorial; Bereaved Families of Ontario; and Hospice Kingston.
Bereavement Services of Kingston's mission is to create partnerships and a network of services to support people who grieve. There is 'no wrong' door in seeking help with grief. The vision is a community where support is available to people experiencing loss and grief."
The types of services offered to individuals and families across the Kingston community include care co-ordination; psycho-spiritual health by a registered psychotherapist; grief counseling by a registered health professional; anticipatory grief support; one-to-one support; closed support groups; monthly drop-in groups; and educational resources.
Deepak Chopra's 21-Day Meditation Experience
Via an online, interactive program
Enjoy easy access to the daily program anytime, anywhere from your mobile phone, tablet, or computer. Learn more about Deepak's all-new 21-Day Meditation Experience, The Path to Empowerment here
Visit our page here.
Thank you for attending the Provincial ABI Conference
The Conference theme is: Forging New Pathways  •  Navigating Challenges  •  Exploring Breakthroughs
2019 Provincial ABI Conference was November 6 – 8, 2019 in Niagara Falls, Ontario.
See you at the next Provincial ABI Conference in 2021.
For more information about this event, visit our page. Speaker Notes are available for all 2019 keynote presentations and many of the concurrent sessions.
Working in the Intersections:
Ontario 211 Services Annual Report 2018-2019
Have you taken advantage of ConnectProtect?

To learn more, follow the link.
If you know someone who lives in a community where MedicAlert Connect Protect service has been established and will benefit from the service, please recommend that they sign up today
Enhancing Hiring Practices to Maximize Business Performance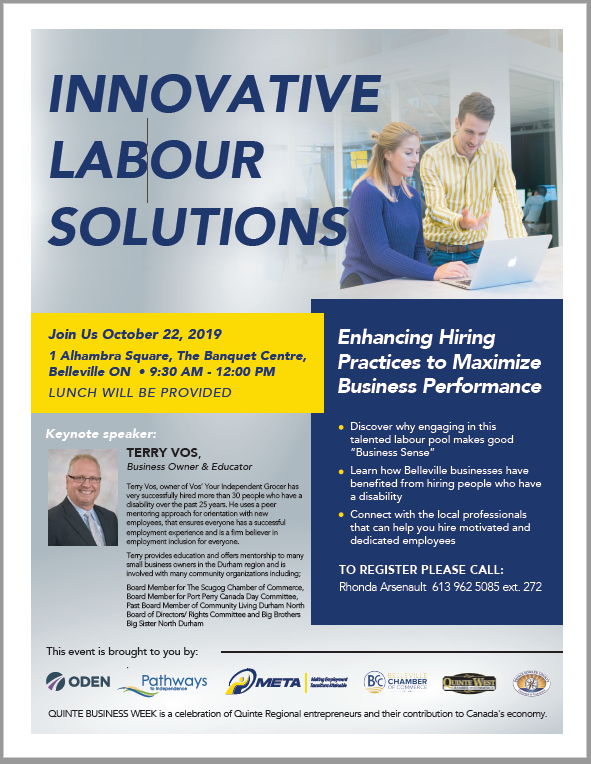 October 22, 2019, Learn how Belleville businesses have benefited from hiring people who have a disability.
HSJCC 2019 Conference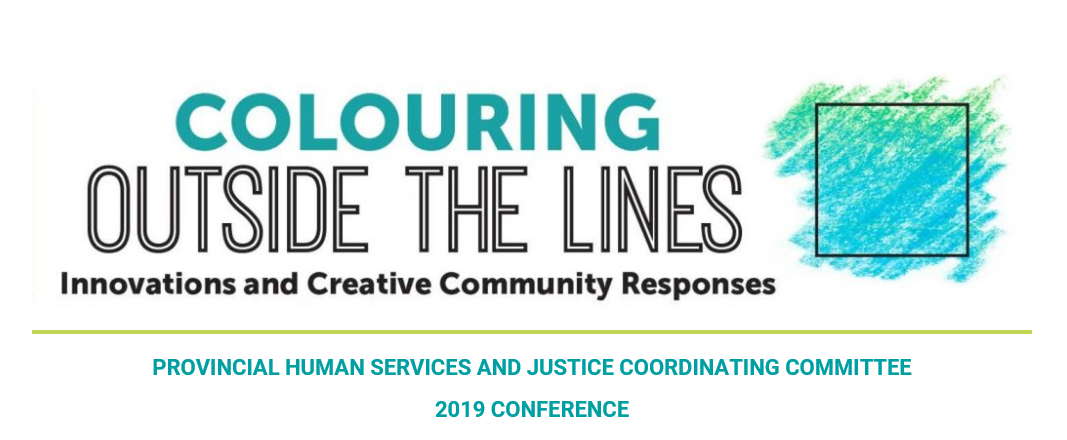 Did you attend the 2019 Provincial HSJCC Conference?
Visit hsjccconference.ca for more details.
How was Session B6: Acquired Brain Injury and Addictions/Mental Health Collaborative for more information click here.
Refurbished digital devices for eligible low income Canadians.

Lean more about Computers for Schools. It is not just for schools!
Assistance with School Supplies in HPE
Hastings and Prince Edward counties publicly funded schools: The Good Backpack Program
Connected for Success: high-speed internet for $9.99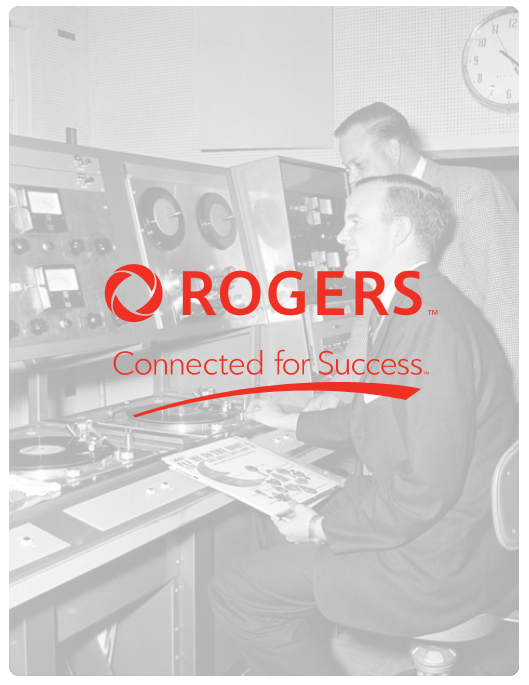 Rogers Communications' Connected for Success provides high-speed internet access to people living in rent-subsidized non-profit housing. Connected for Success is about bringing more Canadians online and giving them access to the digital economy so they can connect with friends, family, school, work and their future. Read more.
The Aphasia Conversation Group

For the stoke flyer, click here.
An opportunity for adults living with Aphasia to rejoin life's conversations in a safe, supported environment lead by a Speech Language Pathologist.
For more information click here.