Mood & Emotional Changes
It is not uncommon to have an emotional reaction to sustaining a brain injury.  Sometimes, the brain injury itself may cause changes in mood and emotional regulation.  You may be feeling like you experience emotions differently than before your injury.  For others it can be the fact you are facing changes in your life which can cause feelings of frustration, loss, confusion, or sadness.
Dealing with Loss
It is important to know that these feelings are frequently encountered by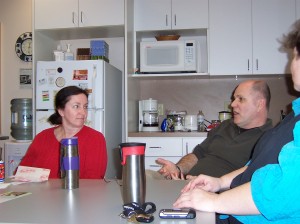 those affected by a brain injury, regardless of severity.  Sometimes the loved ones of those living with a brain injury also have an emotional reaction which is completely normal.  They too may benefit from the following suggestions. There are a number of things which may be helpful.  Connecting yourself to local brain injury services, association or support groups can help you connect with others who are going through similar changes.  System Navigation can help you find these services.
Finding Help & Support
Your family doctor may also be a resource to provide recommendations, refer to specialists, or provide prescription medication which may help.  You may also find it helpful to connect with a counsellor or therapist who can work with you to deal with the changes you are facing.  Also make time for activities you enjoy each day, whether it be going for a walk, talking to a friend, or relaxing in front of the TV.  Taking care of one's self is always important, especially in challenging times.
Occasionally people consider behaviours they would not have prior to their injury, or return to habits which can be harmful to them.  It is important to let someone know if you have thoughts of harming yourself or others, or if you are engaging in risky behaviour such as drinking heavily or using drugs.  The injured and healing brain is more susceptible to the effects of these substances, and can be more easily harmed.  If you are having these difficulties it may help to discuss them with your doctor or counsellor so that a plan may be made to support you.