After a Concussion
When you've sustained a concussion you may experience a variety of symptoms which are out of the ordinary for you. These can be frustrating and hard to cope with. The good news is that most symptoms will be gone or reduced significantly within a few weeks to a few months. In the meantime there are some things you can do.
Common concussion symptoms include:
Headaches and dizziness

Nausea and vomiting

Vision problems

Sensitivity to noise

Confusion or disorientation

Poor balance

Speech and movements slower than normal

Poor memory and concentration

Slower thinking

Fatigue

Iritability, mood swings, and anxiety
How can I help my brain heal?
Taking it slow – your brain needs time to rest and heal. You may need to limit your activities for a little while or take rests.
Don't risk getting a second injury. Physical exertion or a second head injury in a short time can delay healing and cause further damage.
Avoid too much stimulation. Keep your surroundings as quiet as possible.
Avoid tasks that require a lot of concentration or focus for a little while. You may need to take time off work. This can also include reading, watching tv, spending time on the computer, or playing video games.
Gradually resume your activities as you feel better, but if you notice symptoms coming back, it's a sign to go a little slower.
What can I do for now?
While you are experiencing difficulties you can utilize some tools to help you cope. Just like you would use crutches for a broken leg, these things will reduce demands on your brain so it has time to heal.
Write things down! A notebook or pocket calendar are handy for anyone, regardless of whether or not you've had a concussion. Keeping them all in one place will help reduce guess work later (now where did I put that….)
Explain you have had a concussion and ask for help. Others are more than happy to repeat things or provide follow up reminders if they understand your situation.
Reduce destractions around you – if you need to focus find a quiet place to do so.
When you need to work on something write out a plan first, including all the steps you need to complete along the way. Check them off as you do them.
Tackle things in small chunks instead of all at once.
If you feel yourself getting upset or overwhelmed, stop and take a break.
What can help me organize? Concussion Tool Kit and MyBrainPacer
There is help. To help patients get back to living full lives, St. Joseph's Health Care London's Acquired Brain Injury Outpatient and Outreach Program at Parkwood Institute has developed a free online toolkit for concussion survivors.
What's in the toolkit? MyBrainPacer App™. Much like points tracking used by dieters, through MyBrainPacer™ daily tasks such as driving, exercise and screen time are assigned point values. Users track daily points to balance their activity and minimize their concussion symptoms. MyBrainPacer™, based on St. Joseph's Pacing and Planning Program, was made possible through funding provided by The Cowan Foundation and other community supporters to St. Joseph's Health Care Foundation.
The toolkit also includes St. Joseph's Concussion Care Video Series, and other downloadable, easy to use tools and tips.
View and share these tools with concussion survivors and their care team.
Am I going crazy?
There are a number of symptoms of concussion which can make you feel concerned and anxious about the future. Keep in mind that these symptoms will only exist for a period of time and that things will improve. To help you can:
Stay connected and talk to your friends and family. Ask for help if you need it or just spend some time together and take your mind of the injury for a while.
Do deep breathing and relaxation exercises to achieve a sense of calm
Get as much sleep as you need. You may find you need to rest during the day or take a short nap.
Be aware that alcohol and drugs (even caffeine) can affect you more severly than before your injury. Your brain will heal best if you avoid them.
Make a list of the positive things going on in your life and what strategies you can use to help you out
Concussions have sometimes been linked to serious behaviour changes. If you find yourself experiencing extreme sadness, anxiety, or thoughts of hurting yourself or others, it is important to speak with a healthcare professional as soon as possible. It may be hard to talk about, but professionals will know how to help.
For more information on spotting the signs of a concussion and steps to returning to activity, please visit Brainstreams.ca Online Concussion Resources. If you haven't already, visit our mild brain injury and concussion page for further information. You can also contact us for further support.

Check out the Brain Injury Canada (formerly The Brain Injury Association of Canada), a living resource that you can come back to and explore at your own pace. Take your time and book pages/resources so you can revisit them. Information provided on the Concussion information on Brain Injury Canada Website is intended for informational purposes only, is not intended to constitute medical advice, and should not be relied upon in any such regard. It is not intended to be a comprehensive or detailed statement concerning the matters addressed.
You are not alone. Sharing Experiences with Concussion/TBI Multimedia Podcast Series
OBIA, Headsup Concussion Advocacy Network and the former Ontario Neurotrauma Foundation partnered to develop a multi-media series Sharing Experiences with Concussion/TBI.
Each episode looks at different aspects of the recovery process. As the podcasts are released, they will up uploaded to OBIA's YouTube page, available on OBIA's website, or visit OBIA's Multi-Media Podcast Page.
The seven episodes were released throughout June as part of Brain Injury Awareness Month.
CLICK HERE TO WATCH THE PREMIERE EPISODE
CLICK HERE TO SUBSCRIBE TO OBIA'S YOUTUBE CHANNEL
The episodes are led by a leading expert in the field and consist of a group of individuals who have sustained brain injuries discussing their experiences in a safe and supportive environment. OBIA hopes these stories will help others not feel alone in their journey and given them hope for their future.
Education and Support Workshop: 'When Symptoms of Single and Multiple Concussions Persist'
Education and Support Workshops for individuals with persistent symptoms who Developed by members of the Cognitive Neurorehabilitation Sciences Lab – Toronto Rehab/University Health Network and Canadian Concussion Centre. 4 separate videos, 2 per night, with videos 1 and 3 highlighting the education aspect from each night and videos 2 and 4 comprising a Question/Answer segment with Dr. Charles Tator each night. Watch Workshop Videos
Brain Injury Society Toronto (BIST) video series for adults living with concussion symptoms.
The goal of the groups is to learn how to manage your fatigue, regulate mood, improve sleep and cognitive function.
Recordings of webinars of these sessions are posted Persistent Concussion Symptom Series
Parachute, supported by the Public Health Agency of Canada, is dedicated to injury prevention and has information about concussion. Concussion – Parachute
Free On-demand Webinar about Strategies for Achieving Success after Concussion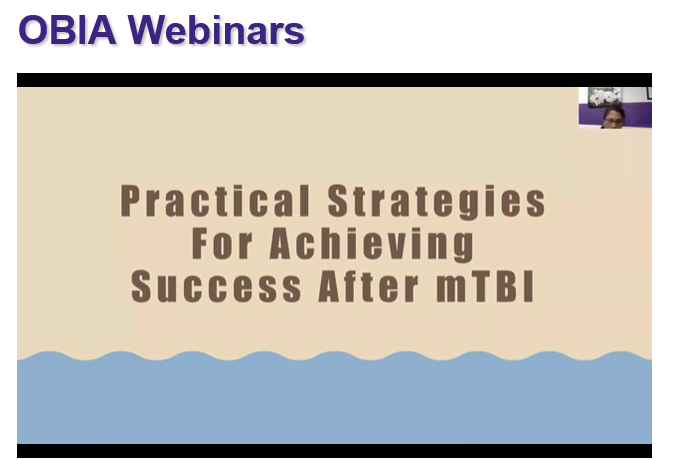 The presentation and slides are posted on Ontario Brain Injury Association (OBIA). Share the link with anyone who can benefit from this information.
Follow the link to watch it at OBIA.ca WEBINAR on Practical Strategies for Achieving Success after mTBI.
Need help for yourself or tools to help someone close to you? Resources are available. Learn more
Peterborough Athletics Concussion Awareness (PACA)
Paca.health/education/ Overall Purpose: Increase awareness of concussions to athletes in an effort to positively contribute to the Removal, Prevention, Management, and Recognition of concussions in sport. This website aims to help athletes, parents, coaches, sport administrators, school teachers, and administrators learn more about concussions through education, resource sharing, awareness, and more!