Ontario Brain Injury Association (OBIA) is a charitable organization that has been dedicated to helping individuals and families who have been affected by acquired brain injury, for over 30 years. Through providing a variety of easily accessible support services across Ontario, OBIA ensures that; education, awareness and support are provided to as many survivors and their families as possible.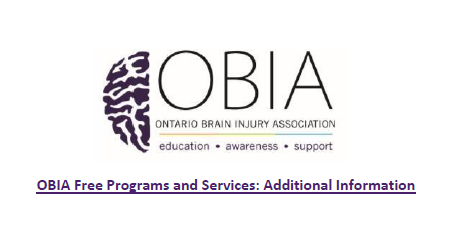 To see a list of programs and services click here find out more about OBIA please visit OBIA website at: www.obia.ca or contact the main phone at: 1-905-641-8877
All of OBIA programs aim to benefit the survivor and/or their families, and most importantly, are provided free of charge.