Due to the current situation with COVID-19, many summer conferences and events were rescheduled to Fall 2020 and 2021. Information will be updated as it becomes available.
This year conference fees have been reduced by more than 65% – take advantage of this year's savings
Regular Rate$150Survivor/Caregiver Rate$100Student Rate$100
https://events.myconferencesuite.com/ABI2020/reg/form/edit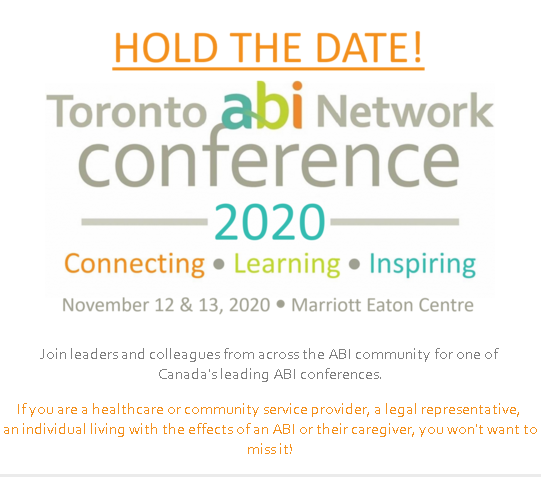 To receive future updates on this and other Toronto ABI Network events, click HERE to subscribe to the communications list.
Brain Injury Canada is thrilled to announce their next conference will take place in Ottawa on to June 2-4, 2021.
The national conference is designed for healthcare professionals, caregivers, and individuals living with acquired brain injury. Workshop schedule and registration
Registration for the Brain Injury Canada National Conference in 2021 is open. Conference passes include access to exhibitors, dynamic presentations, and food. Register now
Conference workshops
On June 2, 2021, some of our exceptional speakers will be running workshops. These small groups are a great way to learn from experts in the field and actively participate in dialogue and activities.
Workshop information and registration
2020 VISTA CENTRE Brain Injury Awareness Day
CANCELLED
Brain Injury Awareness Day has been cancelled due to COVID-19 vistacentre.ca
Upcoming University Health Network (UHN) Conferences & Events for ABI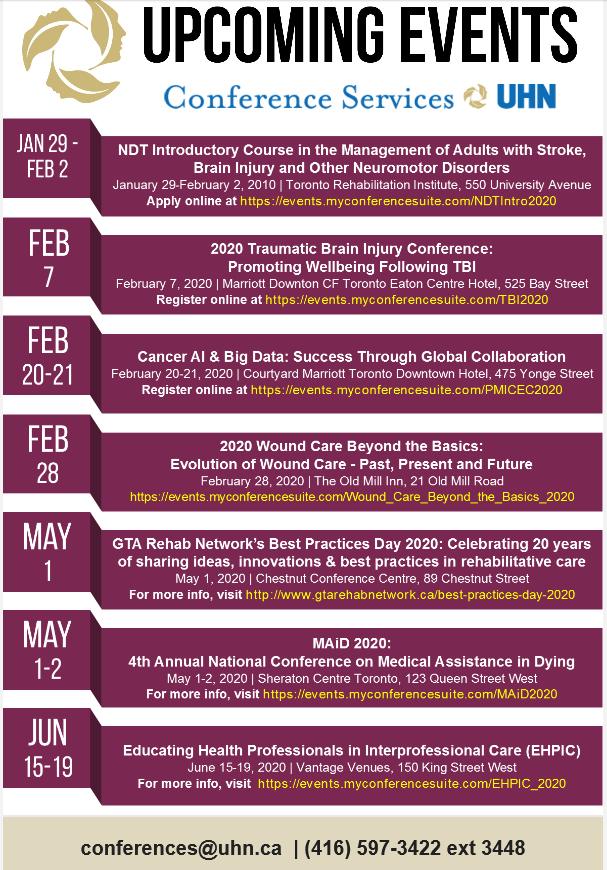 NDT Introductory Course in the Management of Adult with Stroke, Brain Injury and Other Neuromotor Disorders
GTA Rehab Network's Best Practices Day 2020
​​
2020 ABI Network Conference


Best Practices Day postponed to November 27, 2020