September 25 2019
What is Rowan's Law Day?
On March 7, 2018, Ontario passed Rowan's Law (Concussion Safety), 2018 and related amendments to the Education Act. It will be observed across Ontario on the last Wednesday in September each year. The purpose of Rowan's Law Day is to increase concussion education awareness, especially in schools.
However, it is important to understand that this applies to all Sport Organizations, schools, programs and businesses in the province.  This is not a rugby or school 'thing' – it is legislation from the Government of Ontario.
Who was Rowan Stringer?
Rowan Stringer loved rugby. May 2013, 17-year old Rowan died as the result of head injuries she sustained while playing rugby. In the week before her last game, Rowan was hit twice while playing. Her injuries went unreported, and she continued to play. Rowan suspected something wasn't right—she texted a friend about her condition and searched for information about concussions. When she was hit again in her final game, Rowan suffered what is known as Second Impact Syndrome—catastrophic swelling caused by a second injury to a brain still healing from previous trauma. Rowan collapsed on the field on May 8, 2013, and died four days later.
National Post Article: Head Shots Series
A four-part series that won the 2016 National Newspaper Award for sports, Postmedia News explores the issue of youth concussions. Read the Head Shots Series here.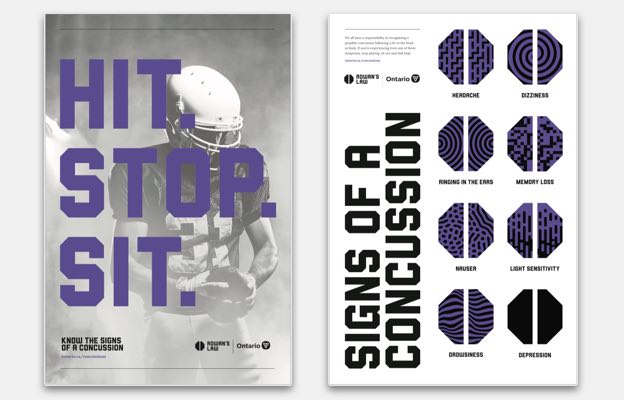 Concussion awareness posters
Download and print these posters to help build awareness about concussion safety and Rowan's Law.
Download the Hit. Stop. Sit. poster.